China Focus: China publishes Arctic policy, eyeing vision of "Polar Silk Road"
2018-01-30 00:30
Chinese Vice Foreign Minister Kong Xuanyou shows a white paper on China's Arctic policy during a press conference in Beijing, capital of China, Jan. 26, 2018. China published a white paper on its Arctic policy Friday, pledging cooperative governance and elaborating a vision of "Polar Silk Road." (Xinhua/Shen Hong)
BEIJING, Jan. 26 (Xinhua) -- China published a white paper on its Arctic policy Friday, pledging cooperative governance and elaborating its vision for a "Polar Silk Road."
"China, as a responsible major country, is ready to cooperate with all relevant parties to seize the historic opportunity in the development of the Arctic, to address the challenges brought by the changes in the region," said the white paper issued by the State Council Information Office.
The country would like to "jointly understand, protect, develop and participate in the governance of the Arctic, and advance Arctic-related cooperation under the Belt and Road Initiative," according to the white paper.
The Silk Road Economic Belt and the 21st-century Maritime Silk Road (Belt and Road Initiative), an important cooperation initiative of China, will bring opportunities for parties concerned to jointly build a "Polar Silk Road," and facilitate connectivity and sustainable economic and social development of the Arctic, the white paper noted.
China vowed to participate in Arctic affairs in accordance with the basic principles of "respect, cooperation, win-win results and sustainability."
"While pursuing its own interests, China will pay due regard to the interests of other countries and the broader international community," it said.
Being committed to the existing framework of international law and rules, China would like to build and maintain "a just, reasonable and well-organized Arctic governance system."
China will also regulate and manage Arctic-related affairs and activities within its jurisdiction in accordance with the law, enhance its ability to understand, protect and develop the Arctic, and participate in international cooperation in Arctic affairs.
Kong Xuanyou, vice foreign minister, said at a press conference Friday that China's participation in the development of the Arctic was a contribution that would bring about development opportunities and social benefits.
"It is completely unnecessary to doubt our intentions or worry about plundering of resources or destruction of the environment," Kong said.
He also said countries in the Arctic had set high thresholds and standards on environmental protection, labor use, and commercial utilization during the development of the Arctic.
"We will abide by relevant standards and laws and make active contributions to the economic development and people's welfare of Arctic society," he said.
The land territories in the Arctic cover an area of about 8 million square km, whose sovereignty belongs to Canada, Denmark, Finland, Iceland, Norway, Russia, Sweden and the United States, while the Arctic Ocean has an area of more than 12 million square km, in which coastal and other countries share maritime rights and interests according to international law.8
China hopes to work with all parties to build a "Polar Silk Road" through developing Arctic shipping routes.
Chinese enterprises are encouraged to participate in infrastructure development for these routes and conduct commercial trial voyages in line with the law for their commercial and regularized operation.
Great importance will be placed on navigation security. The country has actively conducted studies on these routes and continuously strengthened hydrographic surveys to improve navigation, security and logistics in the Arctic.
China also eyes development of oil, gas, mineral resources and other non-fossil energies, fishing and tourism in the region, jointly with Arctic states, while respecting the tradition and culture of Arctic residents, including indigenous peoples, and conserving natural environment.
The white paper promised more on scientific research and environmental protection in the Arctic.
"China stands for steadily advancing international cooperation on the Arctic," the white paper said.
The priorities of such cooperation under the Belt and Road Initiative will be policy coordination, infrastructure connectivity, unimpeded trade, financial integration and closer people-to-people ties.
Concrete steps will be taken to coordinate development strategies with the Arctic states, encourage joint efforts to build a blue economic passage linking China and Europe via the Arctic Ocean, enhance Arctic digital connectivity and build a global infrastructure network.
China calls for the peaceful utilization of the Arctic and commits itself to maintaining peace and stability in the region, according to the white paper.
China supports peaceful settlement of disputes over territory and maritime rights and interests in line with such treaties as the UN Charter, the United Nations Convention on the Law of the Sea (UNCLOS) and international law, and strives to reinforce cooperation with Arctic states in maritime and air search and rescue, maritime early warning, emergency response and information sharing.
"Arctic countries have made full preparations for the service of shipping routes, from various perspectives, such as legal systems, infrastructure, navigational charts, prevention and response to oil contamination," Kong said.
He also said China maintained that the management of Arctic shipping routes should be conducted in accordance with treaties including UNCLOS and general international law and that the freedom of navigation enjoyed by all countries in accordance with the law and their rights to use the Arctic shipping routes should be ensured.
"China maintains that disputes over the Arctic shipping routes should be properly settled through friendly consultations between concerned countries in accordance with international law," he added.
Photo taken on Jan. 26, 2018 shows the Chinese and English editions of the white paper on China's Arctic policy in Beijing, capital of China. China published a white paper on its Arctic policy Friday, pledging cooperative governance and elaborating a vision of "Polar Silk Road." (Xinhua/Shen Hong)
Chinese Vice Foreign Minister Kong Xuanyou speaks during a press conference in Beijing, capital of China, Jan. 26, 2018. China published a white paper on its Arctic policy Friday, pledging cooperative governance and elaborating a vision of "Polar Silk Road." (Xinhua/Shen Hong)
Chinese Vice Foreign Minister Kong Xuanyou (R) and Hu Kaihong, a spokesperson of the State Council Information Office, attend a press conference to issue the white paper on China's Arctic policy in Beijing, capital of China, Jan. 26, 2018. China published a white paper on its Arctic policy Friday, pledging cooperative governance and elaborating a vision of "Polar Silk Road." (Xinhua/Shen Hong)
File photo taken on Aug. 20, 2010 shows He Jianfeng, a member of the fourth Chinese scientific expedition team, collecting the ice core sample at the North Pole. China pledged peaceful utilization of the Arctic and committed itself to maintaining peace and stability in the region, said a white paper issued by the State Council Information Office Friday. (Xinhua/Zhang Jiansong)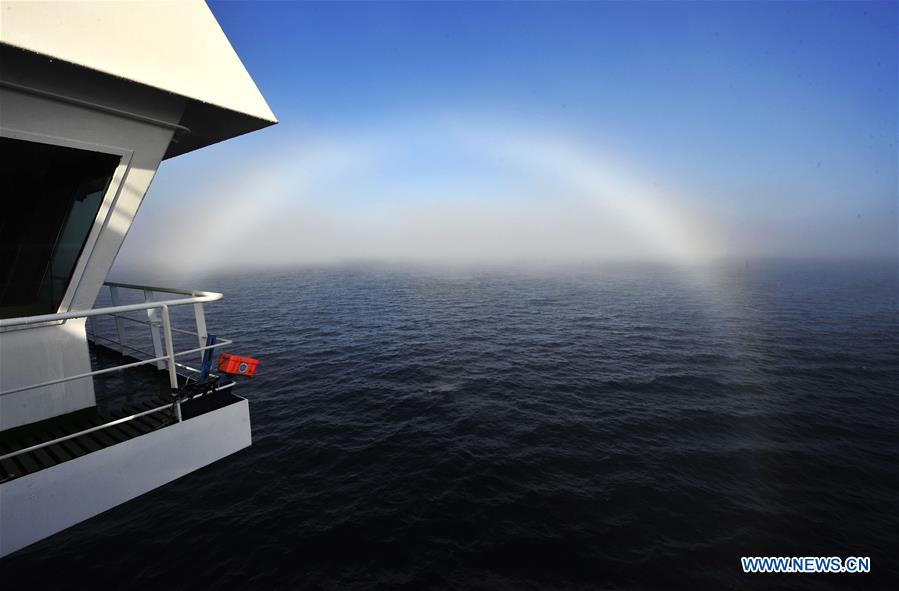 File photo taken on Aug. 29, 2010 shows China's icebreaker "Xue Long", or "Snow Dragon", sailing in the Arctic Ocean at 74 degrees of north latitude for a comprehensive oceanographic survey. China pledged peaceful utilization of the Arctic and committed itself to maintaining peace and stability in the region, said a white paper issued by the State Council Information Office Friday. (Xinhua/Zhang Jiansong)
File photo taken on July 24, 2010 from China's icebreaker "Xue Long" shows a polar bear on floe ice in the Chukchi Sea. China pledged peaceful utilization of the Arctic and committed itself to maintaining peace and stability in the region, said a white paper issued by the State Council Information Office Friday. (Xinhua/Zhang Jiansong)
File photo taken on July 21, 2010 (local time) shows the sunset view taken from China's icebreaker "Xue Long", or "Snow Dragon". The Snow Dragon sailed to Chukchi Sea during polar day period. Chukchi Sea is a marginal sea of the Arctic Ocean. China pledged peaceful utilization of the Arctic and committed itself to maintaining peace and stability in the region, said a white paper issued by the State Council Information Office Friday. (Xinhua/Zhang Jiansong)
File photo taken on Aug. 18, 2016 shows members of China's research team setting up an ocean profiling float at a short-term data acquisition location near the icebreaker Xuelong, or "Snow Dragon", in the Arctic Ocean. China pledged peaceful utilization of the Arctic and committed itself to maintaining peace and stability in the region, said a white paper issued by the State Council Information Office Friday. (Xinhua/Wu Yue)
File photo taken on July 20, 2017 shows people waving to the scientific researchers on the research vessel and icebreaker Xuelong, or "Snow Dragon", in Shanghai, east China. China's ice breaker, the Xuelong, set sail for the country's first circumnavigation of the Arctic rim. China pledged peaceful utilization of the Arctic and committed itself to maintaining peace and stability in the region, said a white paper issued by the State Council Information Office Friday. (Xinhua/Fang Zhe)